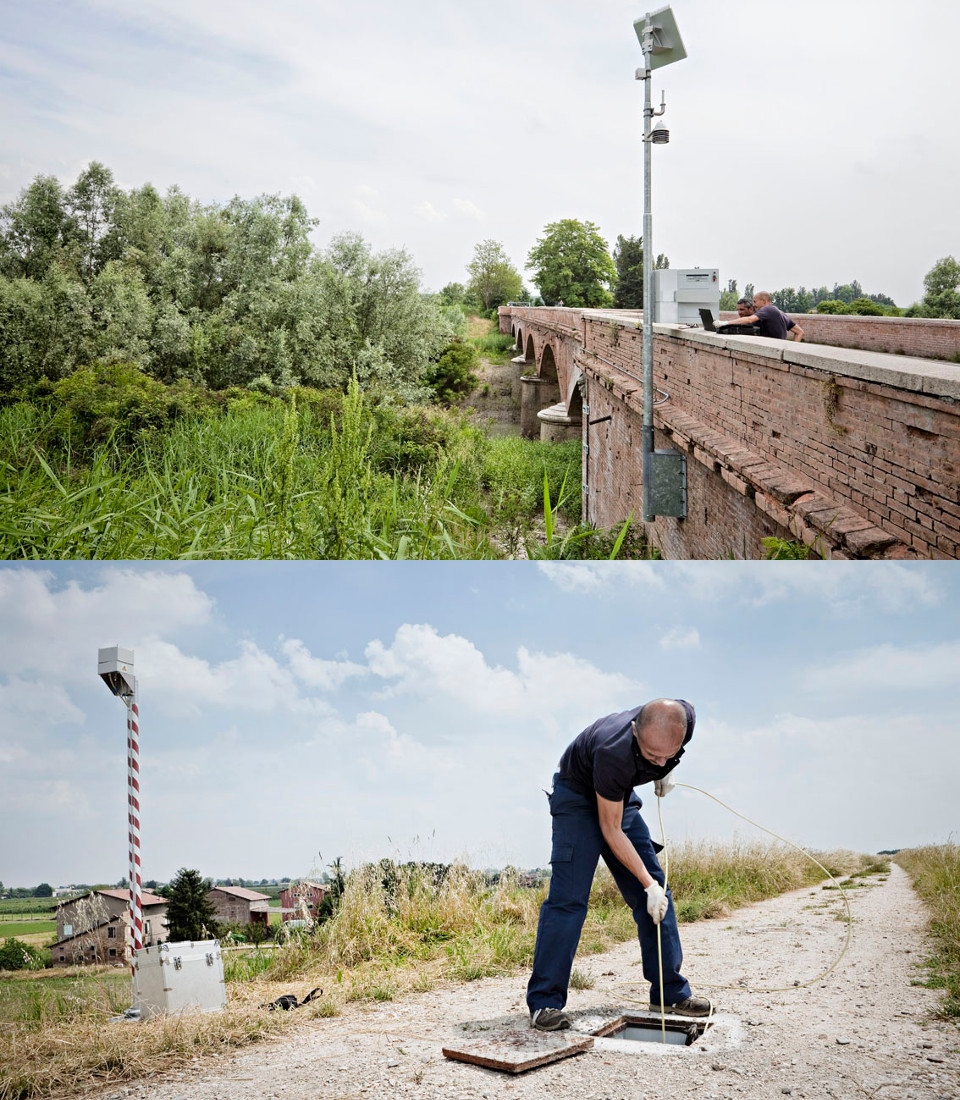 AIPO - Interregional Agency for river Po
Ponte Motta: experimental solution in operation for the embankments monitoring
REQUIREMENTS
The system aims to allow AIPO—following suitable processing and correlation of the data obtained—to model the behaviour of the right bank of the Secchia river (in the locality of Ponte Motta, Municipality of Cavezzo, Modena) during and after river overflows to be able to guarantee safety whilst protecting citizens, the territory and the environment.
FEATURES
Together with AIPO (Agenzia Interregionale per il Po, being the Interregional Agency for the Po), CAE has implemented a solution to monitor the banks' state of health in real time and automatically. The objective of the experimental multiparametric monitoring is to provide a functional tool to study the dynamics of imbibition and filtration on the right bank of the Secchia river, in response to overflow events.
The multi-risk monitoring station collects the data from sensors positioned across mesh netting that stretches across the entire river expanse, delivering real-time data on humidity, stratum levels, temperatures and movements at different depths.
The distinctiveness of the proposed system is the use of the Wireless Sensor Network that consists of a series of sensors to detect the different parameters, connected through a network of acquisition nodes and wireless transmission. These nodes—called W-Point—wirelessly transmit data to the Mhaster Station, permitting installation far from the monitoring area. In the event that a W-Point is moved, removed or faulty, the network automatically reconfigures itself and continues to function by transmitting information via an alternative "route".
COMPOSITION
The network consists of several nodes to which soil moisture sensors, pressure transducers, inclinometer sensors and other geotechnical sensors are connected, allowing you to monitor:
degree of saturation at different depths;
pore pressure in several different sections of the embankment for geomorphological and geotechnical characteristics;
vertical temperature profile inside the embankment;
horizontal or vertical deformation, if any, of the detected values in response to critical hydraulic gradients.
Each W-Point will collect data from the sensors connected to it and will transmit it to the Mhaster Station that, equipped with hydrometric and meteorological sensors, monitors the boundary conditions relevant to the proper interpretation of the geotechnical parameters acquired on the embankment. The data is then transmitted to AIPO control plants in Parma via UMTS/GPRS.