The first station "Made in CAE" operating in Mexico: the cooperation with IMTA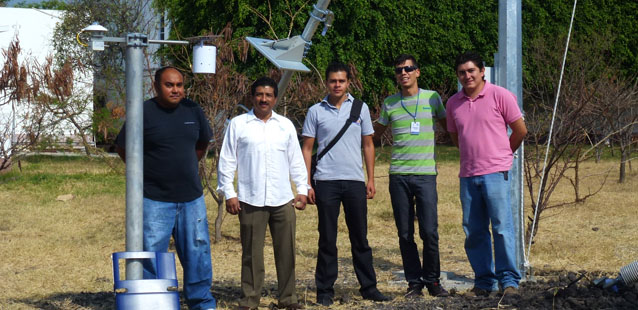 The cooperation between CAE and the Mexican Institute of Water Technology (IMTA) is tightening. The firm has just supplied and installed a typical meteorological station, operating within the main campus of the Institute, located at Jiutepec, in the State of Morelos.
Some technicians of IMTA took part in a training program at CAE headquarter in Italy already during October 2013, while further courses are scheduled to be carried out in the next weeks. The new meteorological station will be a basic tool for in-field training at the campus. At the same time the researchers of the Institute will have the chance to test the station and its sensors, verifying the quality of its measurements.
The station, which is currently operating at Jiutepec, has been installed during early April by CAE personnel in cooperation with experts from IMTA. In order to set wind speed and direction sensors 10 meters high and allow an easy maintenance without any stairs, CAE supplied its specialty tilting mast. GPRS antenna and the solar panel are also installed on this same mast. Two shorter poles hold the PMB rain gauge and the temperature and air moisture sensor, as well as the solar radiation sensor.
The automatic station transmits data measured by the sensors through the GPRS module to the workstation which is installed within the office of IMTA. The CAE View software allows an easy graphic display of data, including all the basic analysis tools.
Thanks to the fruitful cooperation with the Mexican Institute of Water Technology, CAE is sure that this station will be the first in the country, while many others will follow. Further than this, technical feedback by the experts of the Institute, will be important guidelines for future technological developments.