MAPSme: the intuitive, open and customizable software to support real-time activities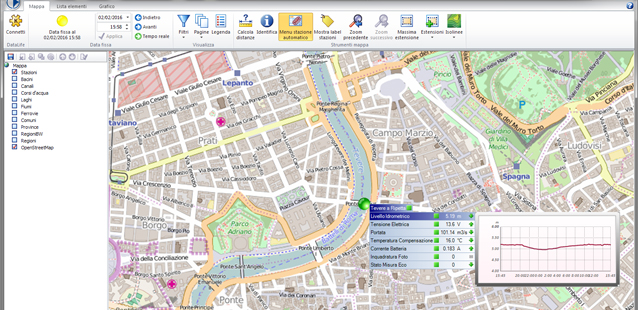 MAPSme, MHAS edition version of the MAPS software fully developed by CAE, is the new powerful, open, customizable and intuitive software for data visualization on georeferenced cartographic maps.
MAPSme is powerful, as it also comes in 64-bit version, which allows to better support the latest operating systems and all the innovations within the UDB database, the heart of the information received from DATALIFE. The software processes large amounts of data over long time-series, quickly showing complex graphics, to set alarms and manage calculated sensors; MAPSme is also able to calculate isohyet, isobars and isotherms. Should these occur in GRIB format on the unique database, MAPSme will be able to display forecasting data by managing them graphically up to three days forward.
MAPSme is open: in fact, users can add detailed layers to the map to take advantage of all the information they need. To do so, they can use both standard shape or KML file formats, overlapping layers to the maps provided by CAE. MAPSme can also use web maps, like Google Maps, as well as open-source web maps like OpenStreetMaps. In its online mode, MAPSme can also easily integrate information found on WMS format, which is among the most used standards in public administration.
MAPSme is extremely customizable: in fact, the buttons placed on the Ribbon Bar can be grouped by topic, the different panels can be moved and shown in folders, or made movable depending on the habits and needs of the operator. Also, changes made by the user in terms of display or processing are recorded in the database, allowing him to log in from any device in the network and easily restore his own settings (sets of alarms, thresholds, colors, subsets of stations).
Last but not least, MAPSme is an intuitive software. A lot of information can be reached without having to navigate through the menus, as the operator can move very easily on the maps, which allow to zoom in to have more detail and on which he can select one of the sensors to get a graphic preview of its values in the last 24 hours compared to the last available data update.
NEW features:
- Possibility of using OpenStreetMap maps
- Possibility of using Google Maps (if available to the customer)
- Possibility of uploading layers on the WMS standard
- Possibility of Import/Export of .KML objects
- Possibility of sin the Thiessen polygons as spatial interpolation method to produce isolines
- Possibility of displaying quarterly/semi-annual/annual performance graphics
- Possibility of displaying rain events bringing them back to the beginning or end of the event.