CAE on Sette - Corriere della Sera to talk about hydro-meteorological monitoring systems in Vietnam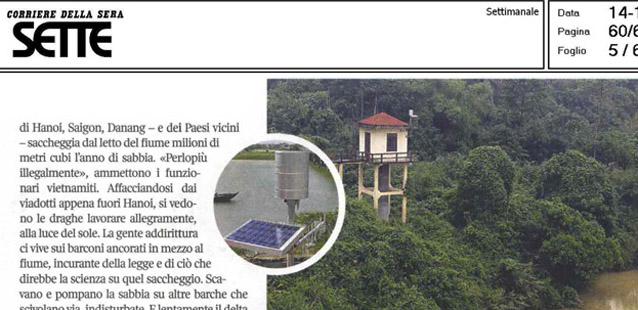 The Red river descends from the mounts of China, flows through Hanoi and reaches the gulf of Tonkin along a basin 200 Km long, where there are 5.800 dams and dykes built to manage flood and produce hydroelectric power.
The engineering approach, the only one used to date for those purposes, is no longer considered effective. For this reason, the Milan Polytechnic designed and is implementing a new model to manage the water containment structures, with the aim to mediate the needs of agriculture, industry and energy production.
The second step of innovation will be developed by CAE, in partnership with Italian Cooperation, and will have the important goal of providing a new monitoring and forecasting system for floods to the people living on this territory.
This project will particularly affect the central provinces of Vietnam, where typhoons are becoming more frequent and unpredictable, with torrential rainfall which dramatically swell short and rushing rivers coming down from the nearby hills of Annam.
"The flooding risk is extremely high and threatens the lives of thousands of people", says the engineer Giancarlo Pedrini of CAE, company that, thanks to a project of € 2.5 million financed by a soft loan, supplied 75 hydro-metrological stations to Vietnam in order to remotely measure rivers discharge, rainfall and other climatic parameters (atmospheric pressure, wind, air temperature and humidity).
Moreover, CAE has also provided technical training to 50 Vietnamese technicians.
That's because the aim of the overall project, to which CAE is participating with its technology, is not only to mitigate the risk in the area, but also that to provide to Vietnamese technicians the know-how needed to autonomously manage technological tools and take decisions during the emergencies.