CAE on Nòva -Sole24Ore- talking about the monitoring system created in Borca di Cadore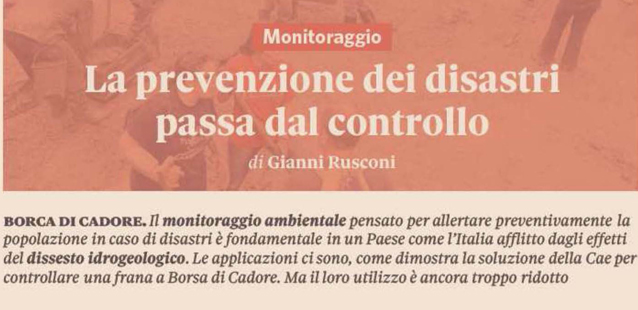 Environmental monitoring is essential for a country strongly affected by hydrogeological instability.

CAE is presented by Nòva24 among the examples which show the potential that Italian excellences can express.
In particular, the feature article dedicated to the company focuses on the prevention and mitigation of environmental disasters, taking as a model the monitoring and warning system currently operating
in Borca di Cadore (Belluno Province)
.
"When it is already built in areas affected by hydrological hazard, there are mainly three options to safeguard the population: relocating the inhabitants, realizing significant hydraulic works in a brief period of time or installing real-time monitoring and warning systems". This is Guido Bernardi's point of view, Business Development Manager at
CAE Ltd.
, who concludes "In every case it is necessary to train people about natural hazards and how to behave to mitigate them".
The full article, written by Guido Rusconi, is available at the following link (Italian only):
http://nova.ilsole24ore.com/progetti/la-prevenzione-dei-disastri-passa-dal-controllo

.