Knowledge and experience at the service of customers: a week of in-company training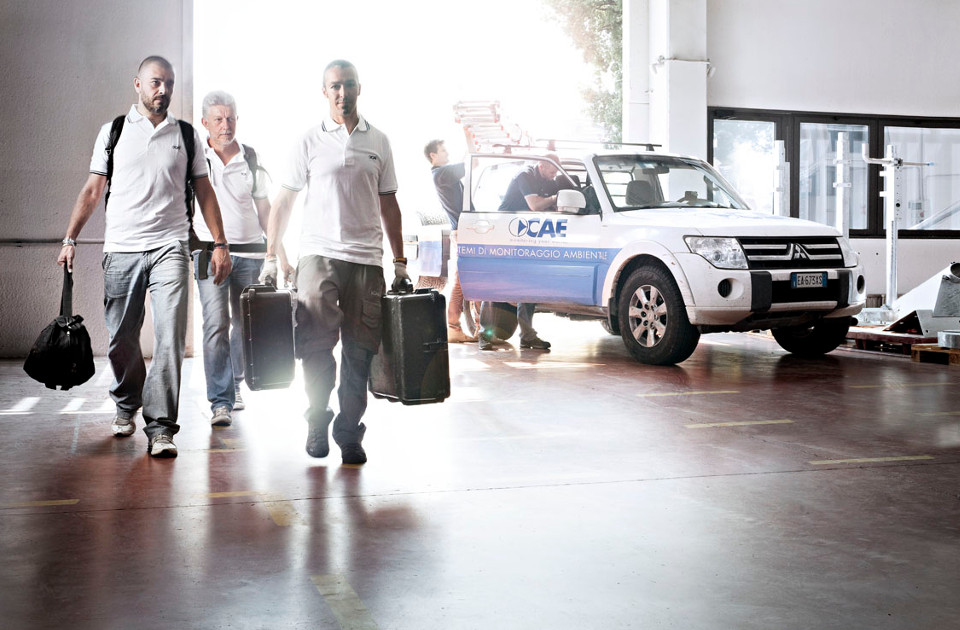 CAE is equipped with highly specialized professionals operating locally. At the time of recruitment, the staff is properly trained to be able to safely perform installations in extreme and logistically complex locations. Particularly, as they often find themselves working in high mountain contexts, they attend courses on how to behave in such environments and how to use Personal Protective Equipment in order to prevent the risk of falling from above when they temporarily work at height and with ropes. These locations are not always accessible by land, so it often happens that our technicians have to reach them by helicopter; this is why they attend training courses in order to learn how to behave in such situations, as well as the opportunities and risks related to the use of this vehicle. Moreover, as they often work on offshore platforms, they also need to pass sea survival and rescue courses; as far as installations on road stretches, they must be able to regularly set up construction sites using the appropriate signs. In addition to the training courses on CAE technologies, as our staff works in a variety of different contexts, each one is trained in relation to his/her specific areas of intervention.
However, this starting training is not enough to guarantee the high quality standards that distinguish us, as a specialized knowledge requires ongoing updates, insights and studies. This is why CAE periodically organizes training and learning programmes for its technicians, who are the true force operating in the field. On the second week of March, all our technicians gathered at our headquarters premises, to attend a training session, that can be useful to introduce the latest technological innovations and improve our knowledge on specific topics. "These courses have been designed to make the technicians more and more aware of the potentials of the tools they are going to use, as well as to clarify the modalities of intervention in certain contexts. It was an excellent opportunity to go into details of some of the offered solutions aiming at facilitating the daily work of our technicians," said Eng. Fabrizio Bertocchi, who participated in the courses organized by our Technical Department. "I am sure the success of the courses comes from the involvement of those who are directly involved in identifying the topics to be discussed. More involvement means more motivation and better results", underlines Eng. Luca Marangi, another trainer from the Technical Department.
Surely the experience gained over the years and in the various risk areas is also a central element in order to guarantee the high quality of our service, both in terms of installation and maintenance. This experience makes it possible to cope with any possible problems that may be difficult to foresee. This is why the meeting of our technicians is also a moment of sharing and allows a transfer of know-how from those who can define themselves specialists in a specific sector or in the use of specific technologies, to those who are less experienced. For this reason, in order to enhance involvement and alignment, some of the courses were held directly by our technicians.
"It has been a very useful week that, among other things, has strengthened the feeling of belonging, as well as the awareness that we are not on our own just because we are isolated from a logistic point of view, but instead we are part of a larger project. An individual's mistake is enough to compromise the reputation of our company; our technicians' role is fundamental, so we must provide them with all the necessary tools to fulfil their duties." That is what Francesco Pastorelli, senior technician and referent for field technician training, declared.