Dams: emergency plans, early warning and public safety systems. The case of Zhinvali in Georgia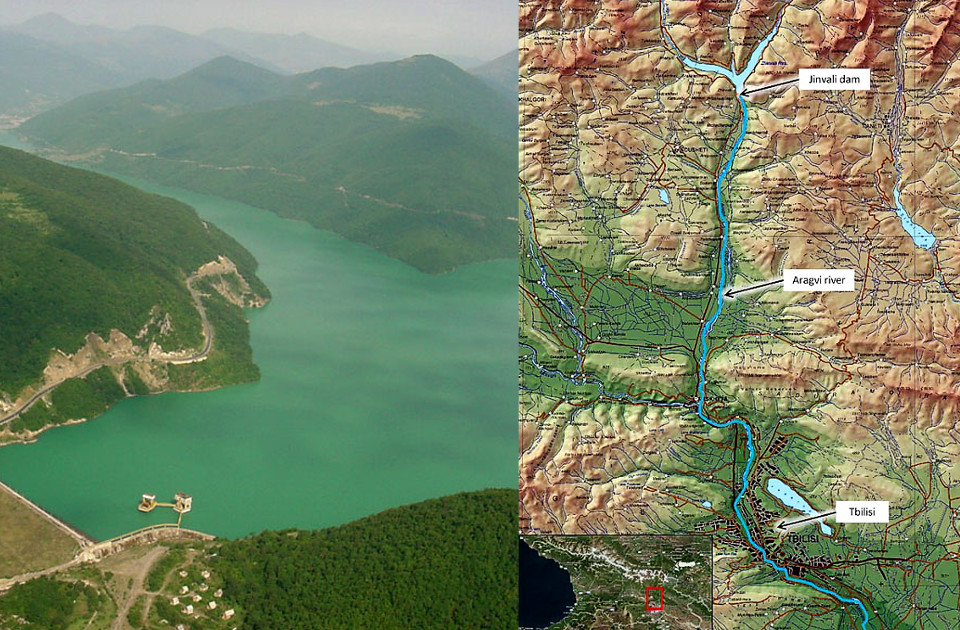 Under the mandate of "Georgian Water and Power" (GWP), the Joint Venture Hydrodiagnostics LLC/CAE S.p.A./Field S.r.l. has been assigned a project for the provision of a monitoring and early warning system for the Zhinvali dam in Georgia.
The dam belongs to "Georgian Water and Power" (GWP), a leading company in the Georgian and Southern Caucasus water supply markets, which is also involved in providing wastewater services and generating electricity from hydroelectric plants.
The dam is located along the Aragvi River, about 60 km north of the capital Tbilisi (see Figure 1). In the first phase, an engineering company conducted a study to evaluate and estimate the progression (maximum depth and flood wave speed) and the maximum flood wave capacity in the event that one of the following risk scenarios occurs: the most catastrophic one, following the breaking of the dam, and a more realistic one, corresponding to an important release of water due to the possible breaking or opening of the gates in a controlled manner.
In the second phase, based on the possible wave propagation scenarios, the risk areas in the region under the responsibility of Georgian Water and Power LTD were identified along the 15 kilometres downstream of the dam. On the basis of these risk areas and after several field inspections, it was therefore possible to establish and configure the Early Warning System for the Zhinvali dam.
The aim of this system is to protect the population in the risk areas, which extend up to the northern area of Tbilisi, the Georgian capital, where over 1 million people live.
The system allows to:
- Perform an early diagnosis of the conditions that can affect the correct functioning of the dam, contributing to its breaking. The system continuously monitors the parameters that best describe the safety level of the dam and, if necessary, it allows corrective actions to be taken in advance. The boundary conditions that most contribute to the occurrence of such extreme events are mainly:
- the conditions of the body of the dam
- the water level of the lake
- the flood downstream of the dam
- turbidity of the drainage measures

- Activate the evacuation notification system.
In case of emergency, when one or more thresholds are exceeded, the system either activates its acoustic devices (a total of 5 stations with sirens) which are connected via radio, or sends messages (voice or text) to the monitoring operators and to the potentially threatened population. Moreover, the network has a mobile instant messaging service that can send text messages even in a pre-warning stage.
This project, which is currently under construction, is an example of complementarity between structural works and early warning systems, and it has been designed in order to make any "dam emergency plan" more concrete and effective.